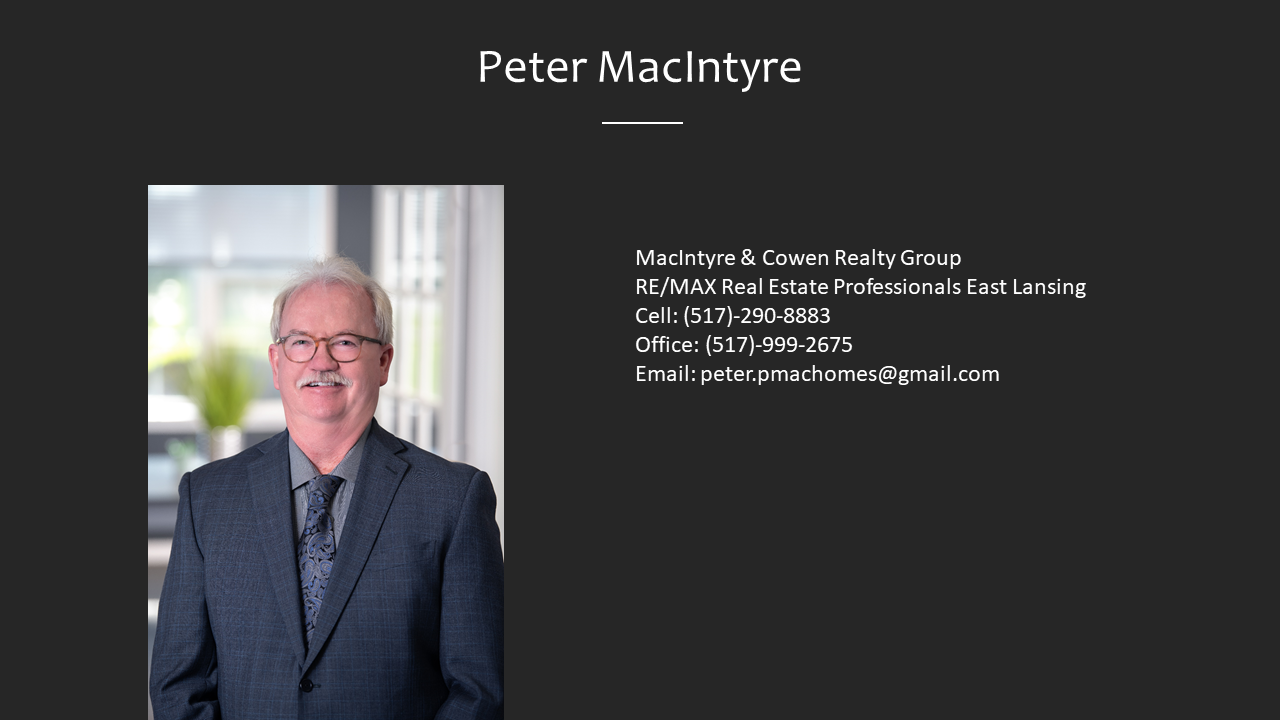 Peter MacIntyre, an Associate Broker/Owner with RE/MAX and founder of MacIntyre & Cowen Real Estate Professionals, brings over 25 years of real estate experience, construction, design and sales background to work for you. Peter started his career in the United States Air Force, later graduating with Bachelor's Degree from Rhode Island College in Business Management. He went on to be a Union Bricklayer all over the East coast for over two decades, and is a card carrying member since 1987. Peter draws on his 28 years of construction, sales skills, and marketing expertise to provide answers to home selling and buying questions. A consistent top producer, the MacIntyre & Cowen team is #1 in Market Share in Greater Lansing with 365 homes sold in one year!
Certified Luxury Home Marketing Specialist
. Peter was ranked #98th in the country out of 1.3 Million real estate agents nationwide by the Wall Street Journal and is part of a nationwide network of Platinum Agents.
With over 50 million dollars plus in sales annually, Peter and his home selling team are proud to be part of the RE/MAX esteemed Diamond Club, Hall of Fame, and the Lifetime Achievement Award. He has a proven track record of navigating through many of the most difficult circumstances in the real estate industry; GUARANTEEING results in today's market. Peter is committed to selling your home and will provide top notch customer service, professional expertise, and a solid commitment to your real estate needs.
When you hire Peter MacIntyre, you get an entire team of professionals behind the sale of your home!


Peter's Clients Testimonials
Lori Horner
"Thank you for everything, with special mention to Kaycee for staying on top of the whole process of selling our home. We had above asking price offers in less than three days. Great job!"
Denise Townsend
"If you want a hard working group to sell your place, call Macintyre & Cowan! We went live with the sale April 2nd and closed April 26th. They helped us with every little detail. The staff as well went out of their way to keep us informed as to what was going on. Even from their homes and on the weekends. We got a good price and closing was all taken care of by the staff. We got to thank everyone that helped us that day too! We would recommend Macintyre & Cowen to anyone!"
Lauren Tomlinson
"I cannot say enough good things about Peter, Eleanor, and the entire group at MacIntyre & Cowen. Not only was my house listed quickly. We got a full price offer in 8 days. Every showing, feedback and any type of information was communicated immediately. Everyone responded to texts, emails and any questions I had throughout the process very quickly. They also have helped me in purchasing my first and now second home. Eleanor is extremely knowledgeable, always available, and patient in helping me find exactly what I want. I would recommend this agency to anyone without hesitation. They are amazing!"
Shawn Minarik
"Peter MacIntyre is the very best listing agent my husband and I have found. He is very professional and careing and has always done a great job listing our homes to sell. We highly recommended Peter and will continue to use him anytime we sell a house. Thank you Peter, we both appreciate all you have done for us!"
Moranda Gowell
"Everyone we worked with at Peter MacIntyre and REMAX was outstanding! We worked with the team to purchase a new house and to sell our old house. Not only did Erin (realtor extraordinaire!) find us a great house for a great price in the neighborhood we wanted, the selling team worked tirelessly to help us prep our current house to sell. They took great care with pricing our house fairly but competitively. They walked us through the entire process and discussed realistic timelines. They hired a great photographer to present our house in the best light and they gave us great tips to prep the house for showings. They had fast, clear communication with us to coordinate all the showings and garnered a ton of interest in our house. After all was said and done, they sold our house in 4 days! I have recommended the buying and selling team to my friends and family and will definitely use them again!"
"I would recommend you and your service to everyone I know, thank you for all your hard work and attention."
"Peter and his team were so great to work with. I couldn't believe how quickly my home sold. They were very knowledgeable on what home improvements were needed and which were unnecessary, in order to minimize our expenses and maximize our profit. They were very fast to respond and marketed our home very well. Finally, we ran into a couple of obstacles (none of which were the realtor's fault), and they really went above and beyond to help us through. In my opinion, they deserve more than five stars!!!"
"Kaycee and Kris are awesome to work with. I never worked with a more friendly staff anywhere no matter the case. If you have questions or concerns, they are there for you at anytime. Very professional and fun to work with. Thank you"
"Professional, skillful, and most importantly, advocates for only one side of the transaction.
I d recommend this particular agent for anyone who d like to get as many showings as efficiently as possible. They have excellent communication with clients. VERY experienced. Will use their service again. No complaints."
"Very knowledgeable. Office staff is very responsive. Signed paperwork on Thursday had offer by Sunday. Staff followed through on whole process through closing."
"No problems were experienced in the sale of our home and the purchase of another."
"Our experience with Peter/Eleanor and the team was amazing!!! We put our trust in their expertise and it resulted with a quick and above list price offer on our home. The team was so efficient in responding to our needs and requests. Our agent was Eleanor. She is the best!! She was so helpful through the whole process. Very knowledge, reliable and dependable. I am glad we chose to go with MacIntyre and Cowan! We are proud owners of a beautiful new home:) I highly recommend them to anyone."
"Peter was honest and clear about the procedure. His staff is amazing! The responsiveness by text/e-mail/call was immediate and we never felt alone in the process. I never want to have to move again, but he would be the first one I would contact if had to."
"MacIntyre & Cowen did a terrific job helping me sell my home."
"Peter and his staff especially my Transaction Coordinator, Nicole worked extemely hard to close a sale that was an incredibly complicated estate. At all times they worked in the best interest of both the seller and buyer. I woukd highly revommend these folks for your real estate needs!"
"Overall experience excellent!!!! Very satisfied with the total home buying experience. Would totally recommend!!!"
"Never having sold a house before I thought you did a really good job. Sold it quickly and for asking price. Delays you were not responsible for."
"Thanks all for helping us land our dream home! You were so helpful. Sincerely cindy n brad griffin"
"Great team to work with, highly recommend"
"The whole process is so efficient and smooth. Thanks, and look forward to work with you in the foreseeable future"
"They were great! They kept me in the loop during the whole process. I ski never had to wonder what I needed to do, such as paperwork."
"Great team, professional, helpful, photographer wonderful work. From start to finish."
"Fantastic service, very professional; made the whole process as smooth and painless as possible."
"MacIntyre & Cowen were great to work with! We had three offers on our house within a week on the market and received more than our asking price. The staff kept us updated throughout the process and answered all our questions very quickly when they arose. Highly recommend using MacIntyre & Cowen for selling or buying of houses!"
"Wonderful people to work with. Thanks"
"I'm certain they are the best in town! No comparison."
"Loved the service; kept my husband and me informed every step of the way. Extremely pleased."
"We recently sold our home and bought a home with the help of Peter Macintyre and his team. We would highly recommend them to anyone looking to buy or sell a home. Peter was our sellers agent and priced the home appropriately. We had showings requests within a few hours and offers coming in within a few weeks that were at or above asking price. Eleanor was our buyers agent and we cannot say enough good things about her. We looked at a lot of homes before we found the right one. She was very patient with us and VERY knowledgeable whenever we had questions. Her expertise goes way beyond what a "typical" agent does. There were a few hiccups during our sale and purchase that neither party could control, but having them on our side made the process so much easier. If you're looking for a team that you can rely on and will go the extra mile to make it happen if needed, this is it! We are now enjoying our dream home and couldn't be happier with our decision. Thanks guys!"
"Peter and his team are top notch. Professional and willing to help . If I ever move back to the area I would call them."
"Sold my house within two days of listing. Wonderful and helpful staff!"
"We listed our house with Peter and his staff. They were so prompt on getting pictures taken, getting it listed and showings set up. With all of his and his staffs help we sold our house in less than 2 weeks. I would recommend them to anybody in the area looking to sell their home."
"I think Peter is a very lucky professional agent to have such a fantastic team that he has. You all did such a great job. It's no wonder he and his staff are number one in the state. Keep up the good work!"
"I was very please. I was injured so I was not able to move around. Peter and his team made sure that everything was taken care of and helped me out. Their office ran like clockwork. There were lots of listings and showings. I was able to sell my home quickly and stress free."