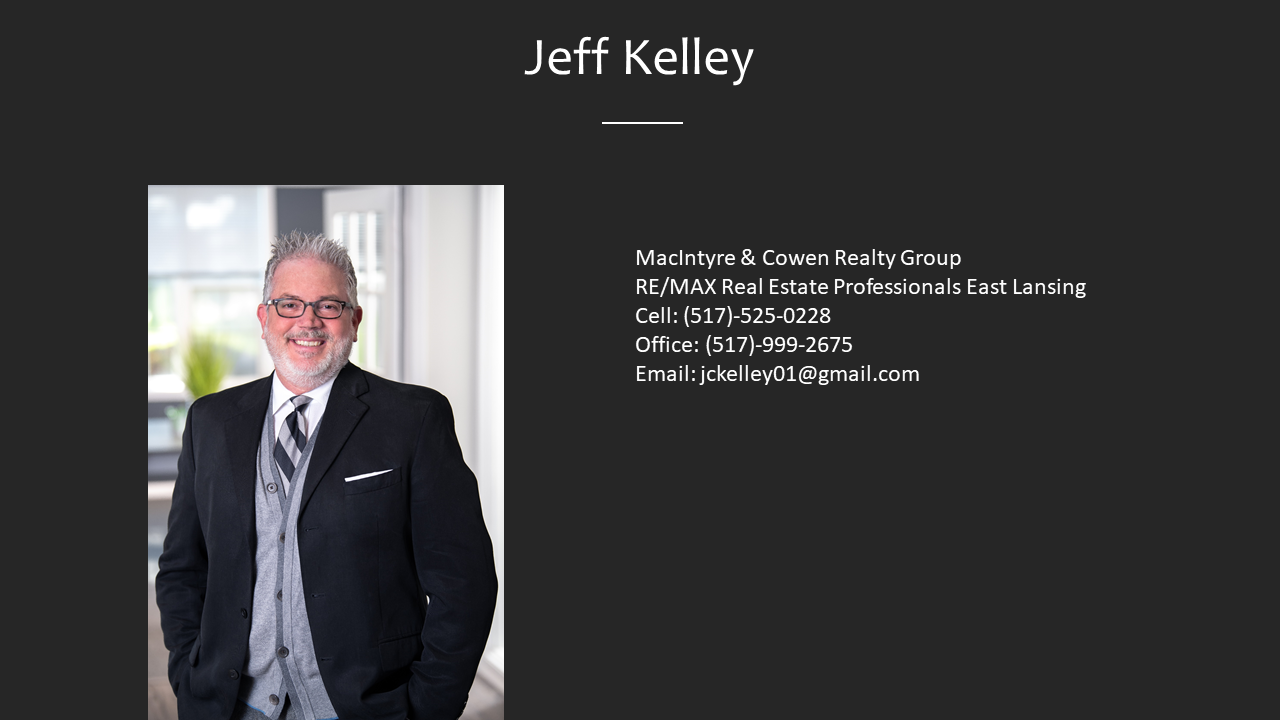 Jeff is a Buyer's agent and has been with MacIntyre & Cowen for over 8 years. Prior to that Jeff had been a limited licensed appraiser with A-1 Appraisal for 3 years. He also has a background as a sales manager and sales trainer working with the Thomas Kinkade Company as well as Bali and Olga Intimate apparel. Jeff has closed on more than 70 transactions in his time with MacIntyre & Cowen. His professionalism, accountability, and cordial approach to his business is just some of the things that have endeared him to his clients. One of his strongest traits is his relationship building which provides close and trusting alliances not only with his clients but also with the listing agents he works with. His friendly approach helps him to negotiate the best possible deals for his clients and helps make for a smooth home buying transaction.
Jeff will help you find the home of your dreams and make it as enjoyable of a process as possible.


Jeff's Clients Testimonials
Pavel Stolarczyk
Working with Jeff Kelley was a great experience, he's a fun and charismatic guy! Being a first time homebuyer was a daunting process, but Jeff explained it and helped get through it quite effortlessly.
Kaitlyn Rich
Jeff Kelly was absolutely amazing! He was able to show me multiple houses that had exactly what I wanted and was in our price range! He was also able to work with my parents While they were in a different state. Thank you so much!
Julia
"I had a fantastic experience working with Jeff. As first-time home buyers, we had a lot of questions that he was happy to answer, and he was great pointing out any possible problems with the houses we were looking at. Jeff also had great ideas on how to negotiate when there was another offer on the home we were interested in. I would highly recommend Jeff and RE/MAX to any who was looking for a home."
Karen Park
"We worked with Jeff Kelley. He is kind and knowledgeable about the area. The process went fast, and he worked hard to meet our needs. We strongly recommend him."
Pbajam
"Jeff Kelley helped me find a home, in the neighborhood I desired, that was perfect for me. He didn't waste our time searching for properties I would not be interested in. Jeff did inform me another neighborhood had the same type of homes I was looking at, but honored my resolve for a home in Colonial Village. Jeff was personable, and knowledgable about the properties he showed."
David M.
"Jeff Kelley, dependable, well informed and he was always available to answer our questions. My wife and I highly recommend Jeff Kelley."
"Our experience with Jeff has been wonderful. He was there for any and all questions and always wanted to make sure we was ok with our decisions. Very solid. The rest of the staff has been great as well. Thank you so much."
"Working with Jeff Kelley, was a fantastic experience! My husband and I found Jeff to be readily available, knowledgeable and a man of his word. Thank You!"
"Working with Jeffrey Kelley as a buyer agent, nice guy, patient, giving good advise and helped us to get the right home. 18 offers in 24 hours on that specific home and we made it with his help!"
"MacIntyre & Cowen can't be beat! We are a home inspection company and we've only seen incredible communication and professionalism from their team, especially agent Jeff Kelley. Besides class and talent- Jeff is always attentive and is relationship-focused. We've seen him truly listen patiently to concerns,thoughts, and ideas of his buyers. He will treat you how you should be treated and you will leave a meeting with him feeling so thankful you gave him a call! – Tammy (Steeleman Inspections)"
"Outstanding experience working with Peter's team. Highly recommend. We used them as a buyer and seller. Buyers agent Jeff Kelley was amazing and very attentive to our needs. We found the home of our dreams through them!"
"Our overall experience wes excellent. Jeff was professional, knowledgeable and personable. We would definitely return and recommend your office to anyone looking for a home."
"I am writing to express my pleasure with your wonderful agent, Jeff Kelley, who represented me in the recent purchase of my new home. He helped me through the entire process, from loan prequalification to searching for houses to making the offer and closing the deal. I am very satisfied with the service he provided. Jeff was very easy to work with and made a stressful experience much easier. I was very particular about what I wanted, but Jeff never showed frustration. He showed me anything and everything I wanted to see and worked around my schedule. He made sure I knew what my options were in other markets and we looked outside of my target area to make sure I was getting a good deal. He was very understanding when I had to bring my children along which can be a challenge. I would recommend Jeff to anybody who is in the market for a new home. It was a great experience and I am so happy that I had such a great agent to work with."
"Everything went well during our buying process. Jeff Kelley was attentive to our needs and accommodating with our schedules. While we were not able to purchase the first home we wanted, we were able to find a home with many of the features we wanted. Jeff was there every step of the way to insure a smooth process."
"My experience with Jeff Kelley was excellent. He always acted professional and was always available. he worked on my behalf at all times."