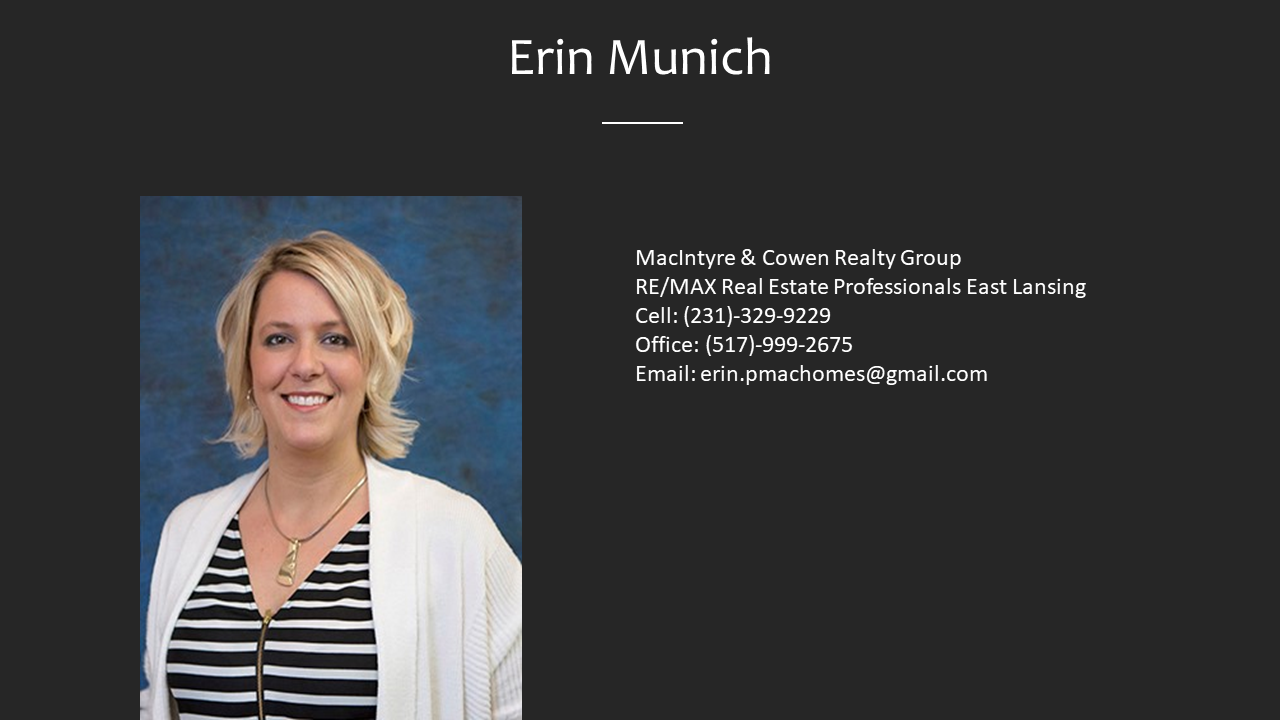 Erin and her family live in the
DeWitt area
. She loves working as a buyer's agent, especially with first time home buyers. She understands that you are buying a new home, not a new coat, and that it will quite possibly be the largest purchase you will ever make. This is a new, emotional, and possibly even scary process for home buyers to experience. Erin will walk you through this process, answer your questions, and be available to you when you need her. She is friendly, attentive, and genuinely loves meeting and working with new people.
You won't just leave with a new home, you will leave with a new friend.


Erin's Clients Testimonials
Theresa Chobey
We really appreciate all the hard work that Erin did in assisting us in purchasing our home. She accommodated our schedules and provided invaluable resources that we needed to make our decision. Erin was our advocate with the sellers agent and moved the sale along faster than anticipated. She went the extra mile to ease all of our concerns. If you ever need a real estate agent in the Lansing area I would highly recommend Erin.
Alejandro Castillo
Erin Munich helped my wife and I to buy our first home. She was amazing! Throughout our home buying process, we ran into many obstacles, and Erin guided us through all of them. My wife and I both work 60+ hour weeks, and Erin was willing and able to assists us and work with our crazy schedules. Erin was amazing at helping us land a house to turn into our home. I cannot recommend her enough!
Alex Falsetta
As a first time home buyer, Erin Munich was very helpful in helping me through the first time buyer process. Not only was she kind and respectful, but she was very knowledgeable in all steps of the buying process and was available at a moments notice. I would highly recommend her and look forward to working with her again in the future.
Asad Khan
I highly appreciate the professional integrity that Erin showed when she helped my company in finding a suitable investment property . She is very deligent in her work. I would recommend her for any real estate need in the Lansig area.
Elizabeth Roman
Erin Munich was my agent on buying my first home and she was GREAT!! Always quick to help me, quick to answer all my questions and quick to respond back. Even after closing she is still so helpful checking up on us/ the house and still answering my questions. Thank you Erin!!
Rebecca Billips
Erin is an absolute god send! She is professional, knows her stuff, and is just fantastic to work with. She mad getting our new home purchased a breeze!
Chris Brown
"Erin was a rockstar! We were in the market for a higher end 5 bed/5 bath house with land, city water, and a whole list of other things. She worked hard and found our dream home for us. She negotiated well and was with us every step of the way. We are very satisfied and I highly recommend her!"
Dorie Blaisdell
"Erin did a fantastic job helping me buy a home in a tight market. I'm sure my house wouldn't be mine without her creativity and dedication. She's responsive, knowledgeable, and a total joy to work with!"
Clint Cerny
"Erin has been an incredible realtor to work with. She has been dedicated to helping me find everything I'm looking for, as well as provide input and suggestions. I most appreciate her quick responsiveness. Erin is very pleasant to work with and I highly recommend her. I'm looking forward to working with her again in the future."
Brian Ringstad
"I loved working with Erin. She helped me weigh my options, helped me navigate the loan process, and helped me keep going in the right direction when the homebuying process felt overwhelming."
Culver Ganem-Redd
"Throughout the entire homebuying process, we had such a phenomenal experience working with Erin! She was chill with carpooling in her own vehicle just because it made logistics easier when going on a 7+ home touring excursion. She was transparent in how she thinks about homebuying in a way that was a colossal help getting us up to speed as first-time home buyers. She made herself available at the craziest times, day and night, to deal with the tiniest mundanity up to giving us emotional support when we were collapsing into a puddle of nerves. And she's a reliable devils' advocate to be honest with us when she has concerns about the newest property we've fallen in love with. All of this is to say, we have had a stellar experience working with Erin and will happily recommend her and MacIntyre & Cowen to anyone looking to buy a home."
David Wilson
"Erin was helpful in so many ways always availing herself to the process of seeking out a home. She put me in a winning situation and always prompt with replies. Yes I will recommend her to my family and friends. This was my fourth house purchased and by far the easiest transition I ever had."
Lin Yan
"I worked with agent Erin Munich. Erin is a very experienced agent and is highly knowledgeable on the housing market in Lansing/East Lansing/Okemos. Fancy houses with reasonable prices always attract multiple buyers, which means you need to compete against others. In our experience, Erin always acted promptly to arrange a show when a suitable house appeared on the market, and provided professional advice on bidding strategies. When we were eventually to make the final best offer for the house that we want, she suggested we bring down the offer by a couple of thousand dollars because she believed we could get it by that price. We did and the offer was accepted. After buying the house, she helped on renovation, insurance, and even personally arranged the snow removal for us. Overall, Erin is a super professional and responsible agent, and we feel lucky to work with her on buying our house. You can definitely count on her if you are to buy a house on a hot market."
Kyle & Alison S.
"Erin Munich was amazing to work with. her expertise was great. She was flexible and worked hard with our schedule for showings. She was quick to follow up and ensure any questions we had were answered. She made the whole process easy and we would definitely recommend her."
Erick M.
"As a first time home buyer Erin couldn't have made the process any easier. She was always available to answer any questions and keep us informed throughout the entire process. I would highly recommend anyone in the area looking to buy to give Erin a call to set up an appointment."
"Erin is the best agent ever. Extremely responsive, honest, fun, friendly and knowledgeable. We were involved in a multiple-offer situation and ultimately won our house because of Erin's timeliness and good reputation and relationships with other agents. I have recommended Erin to friends, family and coworkers and will partner with her again for any future moves!"
"Very able and willing to show houses at any time when you are available. Very knowlagable and helpful about anything to do with housing. Personable and wanting to find the right house for her buyer."
"My boyfriend and I are first time home buyers and we had the pleasure of working with Erin. She was the perfect person to help us with our house search. We absolutely loved her."
"Erin Munich was an amazing agent. We found her through Zillow and I had already looked at a few houses with a few other agents but when we met Erin, I knew she was the person we should work with. I was new to the home buying proces and Erin was knowledgeable and helpful with every step. We had a few unexpected issues come up during closing and Erin knew exactly what to do and everything was taken care of. I couldn't recommend her highly enough."
"Erin Munich was our realtor and she did an awesome job! After looking at many houses, we found the perfect house. It took awhile with negotiating and renegotiating, but Erin fought for us to close on the house of our dreams! We could not be more happy and appreciative."
"Erin Munich was our realtor and she did an awesome job! After looking at many houses, we found the perfect house. It took awhile with negotiating and renegotiating, but Erin fought for us to close on the house of our dreams! We could not be more happy and appreciative."
"First time home buyers NEED Erin Munich. She translated the jargon and timelines our lender could not. She even negotiated a price lower than we originally asked for. She is out going and attentive. She really listens to the things your not saying you want in a home and can find what you are looking for. We were looking for months without her, wish we would have met her before ever looking for a lender. Have a question? No worries! She responds quickly and if she doesn't know the answer, she looks for it. She is down to earth, friendly, patient and most exciting person to work with. She has YOUR interest in mind."
"Erin made buying a first home seemless and easy. Very happy with our house and wouldn't want it any other way."
"We worked with Erin Munich to buy our family home and it was such a great process. She was very knowledgeable and did a wonderful job selecting properties to help us decide exactly what we wanted for our family. I know we'll be in our new home for a long time, but if we needed to buy again she's who we'd call."
"I worked with Erin Munich and she is amazing. She is very personable and knowledgeable and I liked her from the initial phone call. She is fun and energetic and made the whole process great. She is not pushy, instead she actively listens and did her best to find the home that fit me and was honest and upfront about every house that we looked at. I dragged poor Erin everywhere looking for my home ( I'm a bit picky) and she was very patient and kind. I would definitely work with her in the future and now consider her a friend."
"I was very pleased working with all of you, especially Erin, she went above and beyond to make sure we got the house we wanted. I will certainly recommend you to anyone I know is looking to buy or sell. Thank you again."
"Erin was great to work with. My husband and I were super picky and all over the place. She helped find everything we were looking for!"
"Erin Munich was great to work with. She was knowledgeable, honest and worked tirelessly to help us find the right house. As first time home buyers, her guidance made us feel so much better about the process. She negotiated with the seller to get necessary repairs done and some closing costs covered. Peter personally came to our signing to congratulate us and be present to answer any questions. I will absolutely continue working with this team in the future!"
"Erin Munich was absolutely fabulous to work with. She helped us through the whole process as first time buyers and helped us find a home in our budget. She is knowledgeable, honest and truly cares about finding the right home you."
"Erin was great to work with. My husband and I were super picky and all over the place. She helped find everything we were looking for!"
"Erin was absolutely fantastic. This was our first time buying a home, so the process was pretty scary for us. Erin sat us down and walked us through every step of the way so we knew what to expect and when. She had great advice on bidding price, and I don't think we could have gotten any better of a deal. She also recommended a home inspector who did a very good job. Erin has a wonderful mix of being really on top of everything and also being excited throughout the whole process too. I never had to worry that something might go wrong, she took care of everything I could think of, and things I would have though of either. 11/10 would recommend her to anyone."
"We give Erin Munich a 5 star review.
Erin and I connected through a search engine when we were considering relocating. I immediately liked her and felt at ease with her. She was easy to talk to and had our best interest in mind. There was no pressure. She seemed like an easy going person who understood I was just checking things out incase we really did move. I liked her. ?
When it became a for sure deal, I let Erin know that we were interested in having her show us houses. She was very informative and fun to be around. No pressure. She remained very objective, but she was very realistic. From pieces of land to build on, to referrals, to 6 different cities, to various price points – Erin was in it with a smile and energy. We looked for several months, changing our minds on the relocation date more than once. She was always patient and happy to see us! She made the experience personal.
It was an emotional journey and I am thankful Erin was the one who went down this road with us. She always made things easy on us, researched houses, looked at houses for us (facetiming, etc.), relayed a thousand questions, had info to give us, formed good relationships with the listing agents and sellers, and kept communication going strong at all times. If you are looking for a fantastic buyers agent, I highly recommed Erin!
"My wife and I consider Erin to be a true friend, as well as our Realtor. It's not every day you find someone who is as professional as they are humorous. From the first house we were shown, we felt confident we were in capable hands. If you are seeking the best, look no further, because Erin is just that. Five stars, round of applause, high fives all around!"
"I worked with Erin Munich on their team and she was awesome!!! Can't say enough about easy she was to work with and was always available for questions. I was buying from out of state and started working with her well before I even started to sell my previous property. Erin sent me listing and ended up finding and buying the perfect property for me. Erin took the stress out of a very long distance transaction. Thank you Erin!!!!"
"We worked with Erin to purchase our very first home and she was wonderful!! The process is intimidating as first time homebuyers, but she guided us through every step, gave excellent advice and was always very quick to respond if we had a question or wanted to see a house. I can't say enough good things – if you're looking for a realtor, this is definitely the place to go… and if you have the opportunity, ask for Erin. :)"
"Erin did a wonderful job finding me a new home. I had tried two realtors before her help and they just didn't get it. She found a place that fits and is close where I can help my dad everyday. Thanks!"
"Erin Munich helped me find the perfect house and she and the broker helped keep us on our timeline when a lot line dispute between the previous owner and a neighbor looked like it could derail the home sale or set it back by a few weeks. Thank you both!"
"I want to thank Erin Munich for all her help in finding the perfect house for us not once, but twice in a very short time! Our first house was days from closing when it fell through. Erin immediately started sending homes which fit our rather narrow criteria. A certain neighborhood and at the low end of the price for that neighborhood. We've moved in and love our new house! Thanks to the team at MacIntyre & Cowen, we closed a week early with no hiccups."
"I worked with Erin Munich to buy my first home, and WOW. She was so knowledgeable and helpful. She knew the area, helped me find my DREAM HOME, and was on my side throughout the entire process. She stayed on my side throughout negotiation, and was by me every step of the way, asking how I was doing, how I was feeling, and if I had any questions. She made the closing wonderful and happy and joyous, despite my first-time-buyer nerves. I couldn't recommend her more highly!"